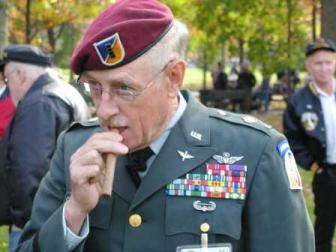 Remembering Goldie
The Goldie Fund was established to honor the memory of James "Goldie" Goldthorpe. Goldie died on October 6, 2005 in a helicopter accident in the Gulf of Mexico off the Louisiana shoreline.
In the military, Goldie was a Chief Warrant Officer 4 (CW4) and was the oldest, active duty aviator in the Army until he retired March 31, 2005. His service spans a thirty year period. As an Army helicopter pilot, he amassed over 7200 hours of flight time, some of which was in a combat tour of duty in the Vietnam. His other assignments have included a tour of duty in Germany as an instructor pilot and pilot in command for the 22nd Aviation Detachment, a tour in Korea as an instructor pilot and operations officer for the 45th Transportation Company, and various stateside assignments. Although previously retired, Goldie demonstrated his devotion to duty and patriotism by volunteering to return to active duty to assist his country during the latest Iraq conflict. He was assigned to the Ft. Polk Joint Readiness Center in Louisiana where he trained many soldiers and their units for their vital missions. Throughout his career, he earned more than 20 medals including the Bronze Star, the Purple Heart, and 15 Air Medals. Goldie's exceptional performance and total devotion to duty were in keeping with the highest traditions of the service and reflect great credit upon himself and the United States Army.
Goldie was a Founding Member of the Combat Helicopter Pilots Association and was active with the Vietnam Helicopter Pilots Association having served as the Reunion Chairperson for the 2000 VHPA Reunion in Washington, DC. He was instrumental in the creation of the National Capital Chapter of VHPA.
May he rest in peace. He will be missed.
CHPA is proud to have the Goldie Fund as a part of its support program. This CHPA program provides scholarships for the spouse, children, grandchildren and great grandchildren of combat helicopter pilots and aircrew members who are current voting members of CHPA or are deceased but were current voting members, or eligible for membership, at the time of their death.
The Fund and Scholarships is managed by the CHPA Board of Directors. General administrative and program management costs are deducted and accounted for directly from contributed funds.
---
CHPA Proudly Announces
Goldie Fund Scholarships
Available for 2017-2018 Academic Year

The CHPA is pleased to announce the launch of our 2017-2018 Academic Year Goldie Fund Scholarship Program for certain family members of active CHPA members.
CHPA has had a scholarship program, known as the Goldie Fund Scholarship Program since 2008. The Board of Directors awards scholarships of up to $1,500. Scholarship recipients were originally restricted to the surviving children and grandchildren of helicopter pilots who were killed in combat operations. Beginning in 2014, the scholarship was expanded to allow awards to certain family members of any current active CHPA member. Last year, $1,500 scholarships were awarded to each of the following four applicants: Jennifer Lynch, Katherine Conde, Corrielyn Veno and Joshua Warren.
You can't receive a scholarship award unless you apply. An application form detailing Eligibility Requirements and Rules for the scholarship can be obtained here.
Applications must be: (1) filled out completely, including all required support materials; (2) be sent to the snail mail address shown on the cover page of the application; and (3) postmarked on or before the deadline of June 30, 2017.
The CHPA will acknowledge receipt of your fully completed application if you have enclosed a self-addressed, stamped postcard (not an envelope) that states: "CHPA Goldie Fund Scholarship application has been received ________." We will date it and mail it back to you.
Scholarship recipients will be publicly announced online on the CHPA's web site prominently on our welcome page, and of course recipients of scholarship awards will be notified directly.
---
Donations to the Goldie Fund are tax deductible because of CHPA's 501(c)(19) organizational status.
To access our online contribution form, click here. You can either pay online with your credit card, or you may mail a check to the office.
Your contribution will make a difference!
---
About The Name
The Goldie Fund was established to honor the memory and contributions of CWO James "Goldie" Goldthorpe. Throughout his military career and afterward, Goldie made numerous contributions of time and funds to those who needed his help. Goldie was an original founder of the National Capitol Chapter of the VHPA and was instrumental in the establishment of the Combat Helicopter Pilots Association.
CHPA is proud to name this program in Goldie's honor, and to provide the scholarships to those so deserving of our help and honor.